Tips For Navigating Through Scholarship Opportunities
Funding & Safe Return Advice For International Students
Jun 21, 2021
"In 2020, I thought my college plans were sustainable – but then the global pandemic ruined everything," said Vy Nguyen Tuong Vo. An outstanding student with a 4.0 GPA at the University of Colorado Denver, Vo had to quickly leave Denver and return home, as did many other international and American students.
At first, she struggled with the abrupt move back to Vietnam, with resuming her CU Denver classes remotely, and with finding ways to look toward the future. One of those ways, a very important one as it turned out, was to actively seek scholarships.
"I made lots of virtual appointments with the financial aid/scholarship department, and I did not miss any appointments."
The staff in the scholarship office were "so patient with my many questions." She also delved deeply into the scholarships section of the CU Denver student portal, learned how to set up useful filters, and routinely investigated current and new scholarship opportunities.
The results were certainly worth the time and effort. Vo was awarded a Milo Student Leader of the Year award for $500 USD, and the Chancellor Georgia Lesh-Laurie Continuing Student Scholarship, which is in the amount of $10,000. In addition, she was recognized with a Business SuperMentor award for $1,000 through the CU Denver Business School.
For other international students who are interested in scholarship opportunities, Vo provided several helpful tips and suggestions:
STUDENT SCHOLARSHIP PORTAL
When you are admitted to CU Denver | CU Anschutz and receive a student I.D. number, you can log in to the student portal online. Through this portal, you can access information about dozens of scholarships, including "internal" scholarships provided by the university, and "external" ones from organizations and businesses.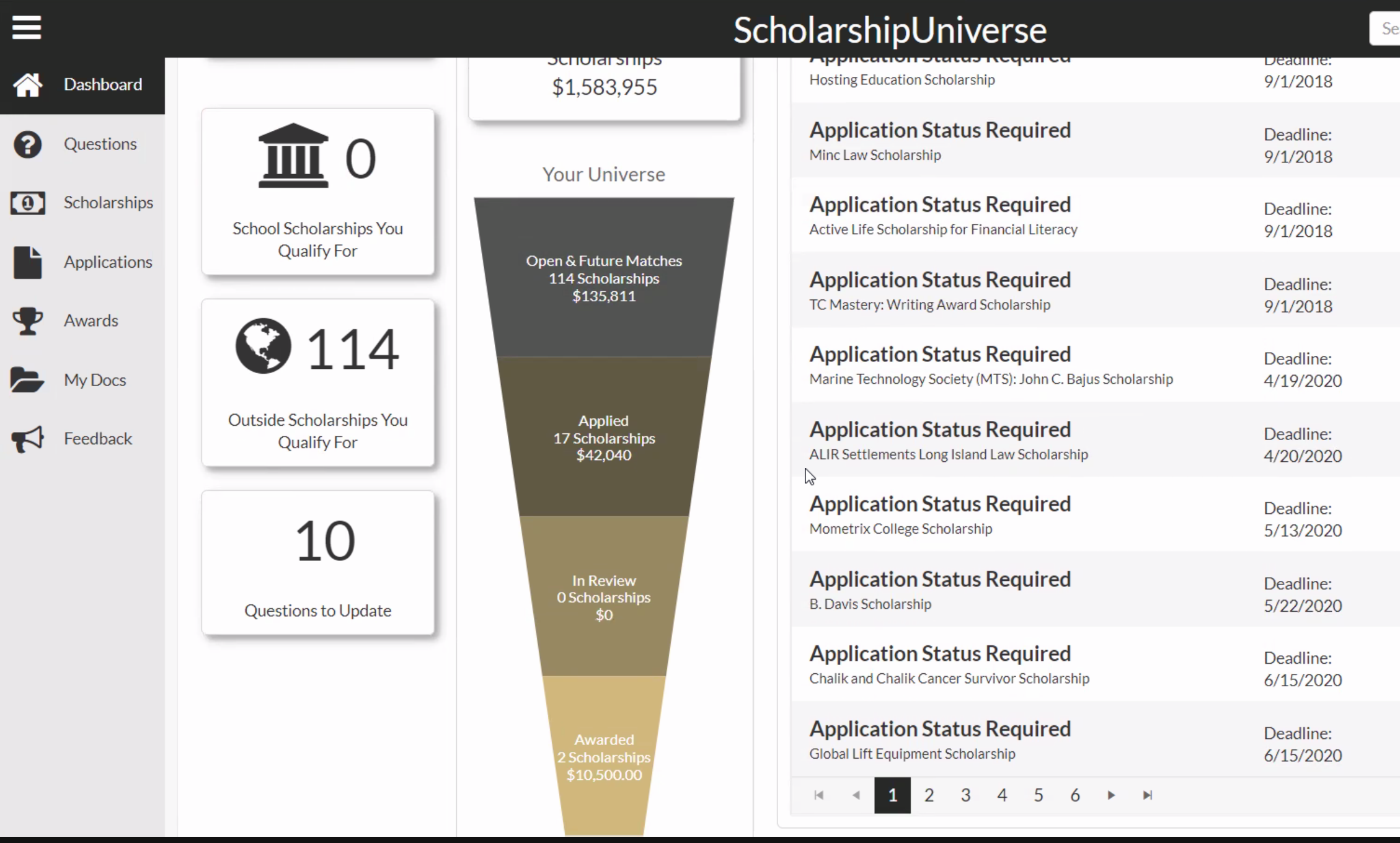 FILTERS
You will be able to answer questions which create filters for you. This step should be finished before starting to apply for scholarships.
The filters will then display only scholarships that are available to international students, and hide the ones that were not an eligibility match. International students are not eligible for U.S. federal government aid, however, they can apply to "Alternate Aid Application."
If you're interested in applying for a scholarship from an external organization or business, you can write directly to the organization. Vo also tried this route, but had better success with the internal university scholarship opportunities.
TIMING
Vo chose to prioritize and to first review the "Matched Scholarships Expiring" section. "If a scholarship is expiring soon, and you are eligible, you can take immediate action."
Keep in mind that some of the university or school/college scholarships might be closed for the semester because the awards have been distributed or don't apply to a summer semester. However, you can check back at the beginning of each new semester to see what has opened or reopened.
TRACKING
The "Applied" display tracks and shows how many scholarships you've applied to.
SCHOLARLY LYNX/GENERAL
The "Scholarly Lynx/General" section is an online avenue to several different scholarships. Other types of scholarships are listed separately.
Every scholarship application includes several questions; for some, you must write an essay, and for others, you must provide information through a video.
Sample questions include:
– Are you currently working to complete your first bachelor's degree?
– Are you fluent in more than one language?
– What will be your enrollment status in the Fall 2021-2022 academic year?
"Your answers and essays give information about how engaged you are in school, what you are doing to serve the community, and how you exhibit a leadership spirit," explained Vo.
WRITING CENTER
When composing an essay, assistance is available at the CU Denver Writing Center. "The Writing Center ensures that your essay is grammatically correct," said Vo. "They help you to convey what you are truly feeling."
SERVING THE COMMUNITY
There are many student organizations on campus that offer ways to engage and give back to the community. Vo expanded her involvement with CU Denver's student clubs, even while studying remotely. She serves as an officer or member of several organizations: the Business School Ambassador Committee, the International Business Student Network, the Council of Asian Student Leaders, and the Dean's Student Advising Council.
These activities have prepared Vo for her next goal; she plans to run for the office of president for the CU Denver Student Government Association, with the intention of "helping and inspiring other students."
ROUTINELY CHECK OPPORTUNITIES
During the travel restrictions caused by the 2020 global pandemic, CU Denver created special Continuing Student scholarships for new freshmen international students who enrolled, began their studies online from their own country, and committed to attending classes on the CU Denver campus in 2021. Various university and schools/colleges scholarships are available from year to year, some expire, and some new ones are created.
Review the Scholarships section of the student portal often, and make an appointment to speak with a representative from the Scholarships office. The University of Colorado Denver | Anschutz Medical Campus continues develop new ways to open the door to enrollment for international students from around the world.
SAFE RETURN TO CAMPUS
"I always kept in mind that one day I would go back to Denver for classes; through my experiences in 2020, I have learned to be resilient," said Vo.
She is delighted to be back in the beautiful city of Denver, and is continuing classes as well as her internship employment with her friends and associates in International Admissions, Office of International Affairs.
"I've met many challenges, and want to tell other students to stay positive and not give up," said Vo. "The impossible can become possible!"
For more information, visit:
CU Denver scholarship application tips
International Student & Scholar Services
Categories:
Office of International Affairs

|
Tags:
International Newsroom Featured